A Resident at
click on the above
Zombie Hollow
e-mail link

Here at ZOMBIE HOLLOW, safety and making sure EVERYONE has a good time is our main priority, with this in mind, please read over our rules. They are for everyone's protection and enjoyment! Any violation of these rules will result in immediately being expelled from ZOMBIE HOLLOW. We want to thank you in advance for following these simple rules and attending The Scream Fest produced by Way Out West Haunted Attractions.
Here are a few things enforced at ZOMBIE HOLLOW

No smoking or open flames of any kind!

No Lighters, flashlights, cell phone lights, cameras,
video, or any types of recording equipment or lights.
Banned from entering
ZOMBIE HOLLOW.
No Beverages (especially alcohol), firearms, weapons or
illegal substances of any kind.

Children can not be carried through, as it is dark and easy
to run into unseen walls, monsters, or any other distraction.

Touch nothing and nothing will touch you! Please keep hands
to self when touring the haunts. Many of the haunt's props are
one of a kind and are difficult to replace just because you
wanted to touch it. Also there are people under those masks,
if you are caught touching ANYTHING you will be escorted out.

Keep together at all times. We would love to use you as a
prop, but don't think your parents would like it. So don't get lost.

Anyone that is displaying unsafe behavior such as horseplay,
fighting, or being disruptive to other patrons or staff will only
be warned once before removal.

ENTER AT YOUR OWN RISK. It is your responsibility to read and
follow these rules. Our sponsors, and any of the representatives of
Zombie Hollow, Way Out West Entertainment are not responsible for
lost, stolen, or damage to personal property or injuries that may have
occurred while on the premise.

If you decide to leave early, can't make it into the attractions,
or have any other reasons to ask for a refund after the fact.
NO REFUNDS or transferring of unused tickets allowed and
all sales are final.

All references, resemblances and statements to persons live and/ or dead are strictly coincidentally and are solely in use for the overall affect of the attractions. Neither Zombie Hollow, or Way Out West Entertainment are liable for any perceived offensive encounter within the attractions and/ or premises of Zombie Hollow. We want to see you again, so drive safe to and from the attraction and have a safe and Happy Halloween.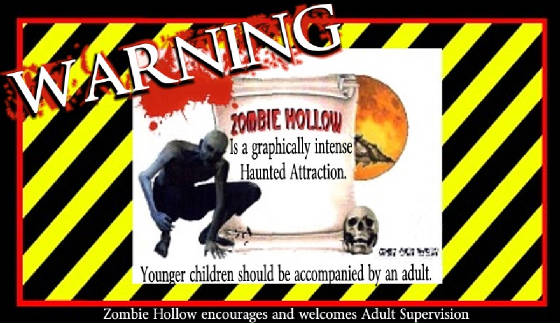 ---------------------------------------------------------
---------------------------------------------------------
--------------------------------------------------------
--------------------------------------------------------
--------------------------------------------------------
--------------------------------------------------------
--------------------------------------------------------
--------------------------------------------------------
--------------------------------------------------------
--------------------------------------------------------
--------------------------------------------------------
--------------------------------------------------------
--------------------------------------------------------
--------------------------------------------------------
-------------------------------------------------------
-------------------------------------------------------
-------------------------------------------------------
-------------------------------------------------------
-------------------------------------------------------
-------------------------------------------------------
-------------------------------------------------------
-------------------------------------------------------
-------------------------------------------------------
-------------------------------------------------------
-------------------------------------------------------
-------------------------------------------------------
---------------------------------------------------------
---------------------------------------------------------
--------------------------------------------------------
--------------------------------------------------------
--------------------------------------------------------
--------------------------------------------------------
--------------------------------------------------------
--------------------------------------------------------
--------------------------------------------------------
--------------------------------------------------------
--------------------------------------------------------
--------------------------------------------------------
--------------------------------------------------------
--------------------------------------------------------
-------------------------------------------------------
-------------------------------------------------------
-------------------------------------------------------
-------------------------------------------------------
-------------------------------------------------------
-------------------------------------------------------
-------------------------------------------------------
-------------------------------------------------------
-------------------------------------------------------
-------------------------------------------------------
-------------------------------------------------------
-------------------------------------------------------